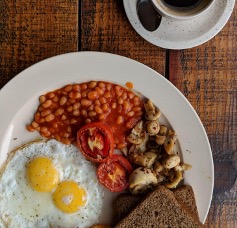 Plan your next summer holiday to London, Miami, or New York and fly British Airways to experience world-class standards in everything from lounges and travel classes to entertainment, food, and drink.
At British Airways, every moment of your journey matters as you can select your meals from a range of British cuisines carefully curated by leading British chefs. Make your British Airways booking now to have a truly fine dining experience every time you take to the skies.
The British Cuisine
British cuisine is more multicultural, attracting an eclectic range of styles. People all over the world love British food, including the traditional ones like steak, fish, and chips, shepherd's pie, the Sunday roast, and bangers, which are all breakfast. British cuisine is associated with several dishes, especially those English, Welsh, Scottish, Northern Irish, European, and Indian.
Here are some delightful British dishes for you to try:
You can find the Full English Breakfast known throughout Britain and of course, Ireland too. It includes the essentials like bacon and sausage, beans, tomatoes, fried bread, three eggs (cooked as you like), essential condiments, fried lamb kidneys, black and white pudding, mushrooms, and potatoes.
The tomato can be stewed or fried. The black pudding is made using pork fat, oatmeal, and blood, while the white one is a pork sausage with oatmeal.
The humble Yorkshire pudding is a pancake, which is served as an accompaniment to the Sunday Roast. It is prepared using simple ingredients, like flour, milk, and eggs. Yorkshire pudding was served in northern England as a filling appetizer in the mid-eighteenth century.
Made using divisive ingredients like animal blood (usually that of pigs), oatmeal, and fat, black pudding makes one feel squeamish. You can find the vegetarian one with plenty of barley or oats if it is not easy to get over the blood.
It's a classic British food, in which you find sausages cooked in Yorkshire pudding. The sausages for it can be bangers, which are made using pork and breadcrumbs and truly English sausage or pork or beef sausage.
If you want to know what traditional English cooking is, try Spotted Dick, which is steamed tender pudding dotted with tasty currants and drizzled using rich, creamy vanilla custard. The ingredients are flour, shredded suet, dark brown sugar, raisins, currants, vanilla custard, and milk.
It is classic British food, which you can still find in the London food street. The freshwater eels are chopped, boiled, and cooled to make jelly. You should have it with herbs, white pepper, and malt vinegar.
A meal steeped in history, the traditional pie and mash consist of a pie with meat filling inside, mashed potatoes, and liquid sauce made using the water of cooled eel and parsley.
This traditional England dish is made using a rich gravy of ground lamb meat and vegetables topped with mashed potatoes and then baked. It is also called cottage pie.
Fish fingers, chips, and beans
Most people in Britain have fish fingers or sticks, chips, and beans on the dinner table. They are a delicious and nutritious quick-and-easy meal. It includes golden fried fish fingers, baked beans in tomato sauce, and frozen oven chips.
It is a boiled egg encased in sausage meat, coated with breadcrumbs, and fried. The famous British dish is perfect for picnics and breakfast.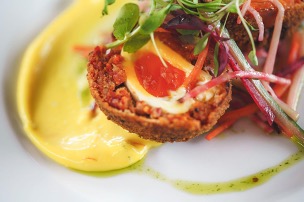 A traditional British dessert, Eton mess is made using pieces of meringue, strawberries, and whipped cream. You can find it served with bananas or other fruits nowadays. This popular dish had its origin in Eton College, and hence the name Eton mess.
The food streets in Britain are famous for this traditional dish, which is prepared using diced steak, kidney of lamb or pig, and onion cooked in rich gravy. It is then encased in a suet pastry and steamed on a slow flame. Some variations can be made by adding bacon and mushrooms to the meat.
The simplicity of this dish is what made it popular in Britain. It is made from rice cooked in milk with sugar and butter added to it. Then, it is spiced up with nutmeg, cinnamon, lemon, and vanilla.
One of the classic British desserts, Jam roly-poly is made from suet dough, which is flat-rolled, spread with jam, rolled up, and steamed or baked. You can use a blackcurrant or raspberry jam for the filling.
If you so desire to live the British way enjoying the traditional culinary delights of the country, plan your travel and make your British Airways booking in advance to enjoy the lowest ticket prices for flights to London Heathrow from Delhi, Bengaluru, Mumbai, and Hyderabad.