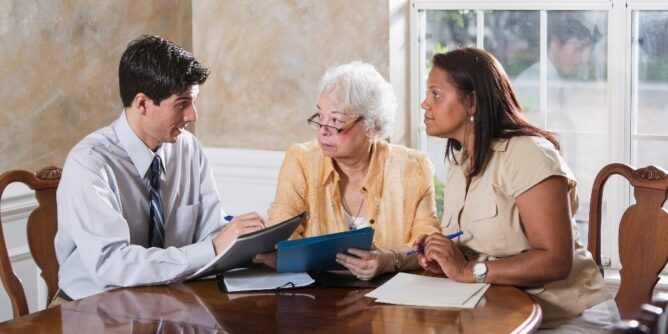 Everywhere you look, we're living longer. And with longer lives often come challenges we may have never expected.
Whether you've been thinking about how to safeguard your future or you're somewhere in the middle of challenging circumstances, you're likely seeking answers or direction. An elder law attorney can help.
What exactly do elder law firms do? Why would you need one?
In this article, we'll tell you what an elder law attorney does and explain your options for future planning, now and down the road.
What is an Elder Law Attorney?
An elder law attorney is an attorney who specializes in legal issues related to elders. These issues can include things like estate planning, retirement planning, long-term care planning, and guardianship. Elder law firms can help you navigate the often-complex legal landscape surrounding these issues and can help you make sure that your rights and your wishes are respected.
If you are facing any legal issues related to your status as an elder, an elder law firm can help you understand your options and make the best choices for your situation.
What Do Elder Law Attorneys Do?
Elder law attorneys can help you navigate the complex web of laws and regulations related to aging. If you are concerned about how to pay for long-term care or how to protect your assets from being depleted by nursing home costs, they can help.
They can also help you plan for your eventual incapacity by creating documents such as durable powers of attorney and advance directives. And if you are caring for an aging parent or other loved one, an elder law attorney can provide advice and assistance on a variety of issues, from managing finances to finding appropriate care.
What are Some Common Elder Law Issues?
When you or a loved one begins to experience age-related legal issues, you may need to seek out the services of an elder law attorney. They are specially trained to deal with the unique legal needs of older adults. They can assist with issues such as retirement planning, Medicare and Medicaid, Social Security, elder abuse, and long-term care.
If you are beginning to experience any of these issues, or if you are simply not sure where to turn for help, contact an eldercare attorney today. They will be able to help you navigate the complex legal landscape and make sure that your rights are protected.
How Can an Elder Law Attorney Help You?
An elder law attorney helps people with legal issues that pertain to aging. This can include everything from estate planning to long-term care planning to guardianship. An elder law firm can help you make sure your assets are protected and that your wishes are carried out according to your wishes.
Planning for the "Near" Future
If you're over the age of 50, you may start to think about estate planning and making sure your affairs are in order. An elder law firm can help you with this, as well as any other legal issues you may have as you age. They can help you plan for your future and make sure your rights are protected.
If you're not sure whether or not you need an elder law attorney, it's best to consult with one to get advice specific to your situation.
For more informative reads like this one, be sure to check out the rest of our blog.