A sunny day is cherished by many. However, when you think of a sunny day, you may not think of beach balls or surfing, but start worrying about sun damage.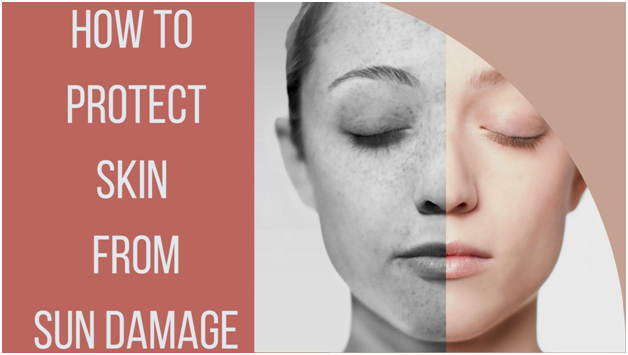 Almost a million cancer cases are directly linked to sunlight. For many sunny days it doesn't mean going out and tanning their bodies. It forces them to wear baggy clothes just to prevent the skin from sunburn and sun damage.
Today we will discuss ways to reduce the risk of sun damage.
Overview of Sun Damage
Natural sunlight contains harmful ultraviolet rays. UV-rays can damage the skin cells and reduce the rate of skin turnover. Therefore, the skin cells cannot replace themselves and cause uneven skin tone, blemishes, dull and dry skin, and clogged pores.
Fifteen minutes of sun exposure can damage your skin. In extreme cases, you can burn the upper layer of your skin. Moreover, UV rays are the primary reason for skin cancer.
Anyone can damage their skin from sunlight. However, fair skins are more likely to be damaged by the sun. Also, if any of your family members have skin sensitivity, you can inherit it as well.
Protect Skin from Sun Damage
Although sunlight can damage skin, we cannot always stay indoors. Sunlight produces vitamin D in our body, which is rare to find in any food. Also, it can improve your mood exceptionally.
Blocking the sunlight from damaging the skin can be a great solution. Here are a few ways of how you can protect your skin from sun damage.
Sunscreens are Your New Best Friend
A broad-spectrum sunscreen with at least SPF-15 (sun protection factor) can effectively block the sun from damaging your skin. You should use your sunscreen even on cloudy days.
Broad-spectrum sunscreen blocks UVA and UVB from entering your skin. UVA enhances the aging sign in your skin, while UVB increases the risk of screen cancer.
Put a thick layer of sunscreen in all the exposed areas of your skin, even in hard-to-reach places. Apply again after every two hours, after swimming and toweling off.
Avoid Peak Sun
Normally 10 am to 4 pm is the peak time for sunlight. During this time, sunlight can cause the most damage to the skin. If possible, try to avoid the sun during this time.
Get some Shade
Packing an umbrella can shade you from scorching sunlight. Also, rather than planning a beach picnic, have it in a shaded park.
Even when you are in the shade, make sure to apply sunscreen all over your exposed skin.
Plan Your Outfit
Tightly woven clothes can protect your skin from the sun. Also, lighter colored clothes resist little sunlight than darker ones. If you have light-sensitive skin, wear longer, darker-colored clothes.
Some clothing is manufactured to resist UV-rays specifically. If you don't like those clothes, wear t-shirts or beach cover-ups.
Remember, t-shirts have a lower SPF rating than 15. You will need to use additional protective measures if you are wearing a t-shirt.
Hats and Sunglasses
Hats and sunglasses can protect you from the sun as well as make you look phenomenal. Hats provide shade around your face, ears, and back of your neck. With a tightly woven hat, you can resist UV rays from damaging your skin.
Avoid wearing straw hats as they don't resist enough sunlight. If you are wearing a baseball cap, make sure to protect your ears and the back of your neck. A dark-colored hat will give you maximum protection against sun damage.
Your sunglasses protect your eyes and the tender skin around them. Therefore, your eyesight is protected, and you can avoid wrinkles around your eyes. Make sure your shades block both UVA and UVB.
What to Do If You Get Sun Damage?
If your skin gets damaged by the sun, you should first calm the skin. Take a bath with mild body wash. Then towel-dry the skin without rubbing. You can apply some aloe vera gel to make the skin soothe even more.Make sure the towel you are using should be the softest towel. Face skin is most sensitive so it needs to be washed off carefully. We recommend reading this article: List Of The Best Face Towels You Can Buy Online 2021. Published by Mizu Towels, this article will introduce you to some of the best face towels available in the world.
Contact your doctor if the condition is too advanced. You can apply soothing creams to help your skin to endure the burns.
Light therapy can help in the quick healing of the skin. If you experience uneven skin tone, light therapy can help you in this manner as well.
Red light therapy energizes your skin cells to repair and replicate. Also, this therapy boosts the collagen and elastin protein in the skin. Therefore, the skin can heal rapidly and evenly.
Besides light therapy, antioxidants, vitamin C, exfoliants, laser therapy can work well for healing sun damage.
Bottom Line
For every individual, adopting sun protection behavior is very crucial. It keeps your skin good while reducing the risks of skin disease. Red light therapy can help restore sun damage in your skin and keep it flawless for a long time. If you spend a lot of time out in the sun, this is a must-have device for you.