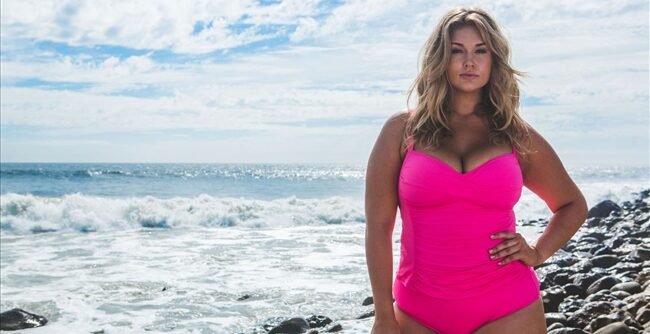 Every woman has a unique body and physical traits they like to highlight. You can use a few design tips such as tummy control panelling, underwire support and high-waisted bikinis to create a lovely and proportional look. Although the curvy bathing suit or plus-size swimwear industry is constantly changing, you can choose a style that flatters your body even if it isn't the latest trend. But before you embark on your swimwear search, you must consider a few factors given below to beat the first ray of sunshine on your skin.
Shop for your body type: You can begin by taking measurements of your bust, waist and hip. After all, you can have any of these body types: Apple, hourglass, banana, pear and athletic. If you carry weight in the midsection, your figure is an apple or circle. Apple body types sport gorgeous gams and slender arms, so you can enhance those lovely features. Although a circle or round body type looks fantastic in any swimwear, you can choose bathing suits such as tankinis. The tank top will grace your fullness at the midsection and hold the silhouette wonderfully. You can pair any tank top with a skirt or a bikini bottom. When it comes to an hourglass body shape, different swimwear styles look great on it. It becomes easier as you have many options to choose from. You can consider your personal style and taste. But make sure that you boost your assets and emphasise your curves. The inverted triangle or the athletic body type means that the woman has slimmer hips and comparatively broader shoulders. You can flatter your statuesque and strong physique with a halter-neck swimsuit. Additionally, you can consider purchasing one-shoulder swimwear or a bateau-neckline bathing suit. The banana body shape is also known as the rectangle body type. Women with a banana body shape can have the same hip and bust measurements and an undefined waist. You can choose deep V-neck wrap-style swimwear or a swim dress with a considerable fullness to the bikini or skirt if a curvier figure is your top-most priority. Women with larger hips, thighs and derriere have a pear or triangle body type. Various styles and cuts of swimsuits look amazing on the pear-shaped figure. If you want to draw attention upwards, you can consider a sweetheart neckline or a V-neck suit. What's more, you can also consider swim capris or longer swim shorts with a tankini or bikini top. 
Pick a colour: After picking the swimsuit style that flatters your figure immensely, it is time to consider the overall look. You might want to decide on a bold colour or a few colours that complement your look and style from top to bottom. You can look for multi-coloured swimsuits for visual variety and accentuating your figure. In case you are fond of some solid colours, you can pick a bottom and top in varying colours. If you prefer a traditional look, it is recommended to stick to wearing streamlined designs and darker colours.
Utilise prints to your advantage: You can consider adding a few plus-size swimwear or curvy bathing suit pieces in different patterns and prints in your wardrobe. After all, you can use prints and various other swimsuit features to your advantage. In order to flatter your form and highlight the natural curve of the body, you can look for swimsuits with a gathering of material on either side. You can ensure that they create a long, lean line and complement your shape. You can use another trick that allows the torso to appear longer by searching for swimsuits with designs or patterns etched on the middle portion.