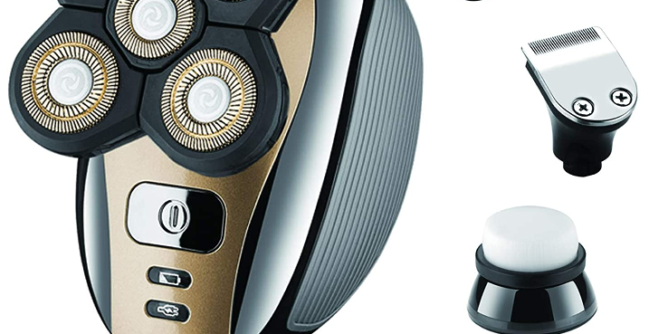 Needless to say, head shavers have emerged as one of the most trending men's grooming essentials in recent times. The popularity of an electric razor for head is due to the large number of people sporting a bold-bald look. Statistics reveal that around 66% of the men population experience some sort of hair loss issue by the time they turn 35. In the past, people used to cover and suppress these hair loss problems until they finally lost those last few hair strands. But, interestingly, that's not the case anymore. We no longer associate baldness with aging or unattractiveness.
Various studies show that men with a shaven head are perceived to be more masculine, dominant, and attractive. Major credit for the huge popularity of bald heads goes to well-known celebrities and influencers who have made bald look good and in style. So, if you are struggling with extended hair loss issues or just want to try the classic bald look, this is the right time to do it. However, there's more to it. Many people misconstrue that once you shave off your head, there's no maintenance or care required. That's completely untrue. Deciding to shave your head comes with a whole lot of responsibility.
A bald hairstyle looks good only when it's well-groomed. Once the hairs are gone, the scalp is exposed to direct dust and light thus making it prone to itchiness and irritation. Hence, using proper pre-shave and after-shave oil is essential. Other than that, routine shaving and cleaning are prerequisites. Therefore, it is important that you have a proper head-shaving kit with basic inclusions such as the best head shaver, a skin-suited moisturizer, along with pre-shave & after-shave oils.
Out of all the basic elements of a head-shaving kit, let's talk about the most important one i.e. electric razor for head. Clearly, you cannot begin to shave your head without a proper head shaver. Manual razors were extensively used for head shaving up until advanced alternatives came along. The growing admiration and acceptance of bald heads pushed grooming brands to develop modern electric head shavers that aid in a regular head shaving routine. These head shavers assist in smooth head-shaving while eliminating the risks of cuts and bruises.
Features of an ideal head shaver
As discussed earlier, the prevalence of bald hairstyles has prompted brands to develop new-age electric head shavers that come with varied modern features. With so many shaver brands and options in the market, it might get confusing to select the ideal world. Digital media and marketing have helped brands in pitching themselves in the best way possible.
When you shop around for head shavers, you'll find yourself bombarded with so many options but how to know which is the best head shaver? Well, it can be difficult but here's a list of key features of an ideal head shaver that will help you in making a valuable purchase.
Advanced shaving technology: This is one of the primary and must consider factors of a head shaver. An efficient head shaver is developed with advanced shaving technology that facilitates a smooth and close head shave. It is the smooth shave technology that should be incorporated while manufacturing head shavers for a quick and fresh shave.
Wet & Dry Shave: A good quality head shaver allows for both wet and dry shaves. Owing to our fast-paced life, we may not have all the resources necessary for a typical head shave i.e. water, foam, wet towel, etc. Therefore, it is smart to invest in a head shaver that can be used anywhere, anytime.
Ergonomic design: Head shaving is tricky and quite different from other shaving types. Restricted view of the head area while shaving makes it prone to skin burns, cuts, and rashes. Hence, buying an ergonomic head shaver is the best choice as it will be easy to hold and give a smooth glide effortlessly.
Compact and Travel Lock: Regular grooming is essential, especially for bald heads. Whether you're on a vacation or traveling for a business meeting, you'd not want to come across as an unpresentable and weird-looking person. Therefore, it is important to carry an electric razor for head in your travel bag. A compact head shaver with a travel lock system is all you need.
Waterproof: Last but not the least, the best head shaver must be waterproof and easy to clean. These head shavers allow for mess-free shaving and can be easily cleaned using water and wipes. You don't have to put in extra effort for cleaning or maintaining its blade efficiency.
Over to You!
Bald is trending and it's in style. With a shaved head, you no longer have to spend money on frequent trips to hair salons and dermatologists. However, investing in a good quality head-shaving kit along with an efficient head shaver is a must! Consider the above-mentioned features and choose the best head shaver for a quick, smooth, and fresh shave.