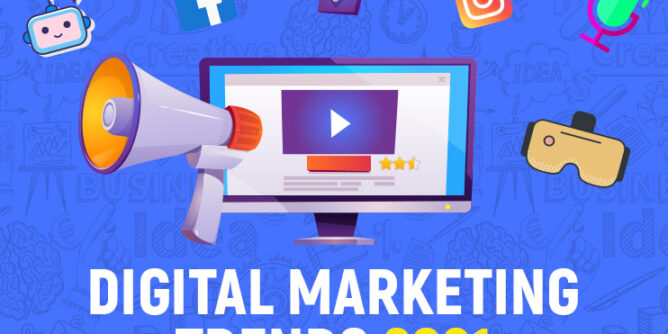 There are very few critical marketing trends in 2021. Pandemic made offline businesses rush to the digital platforms. If you are looking for up-to-date marketing trends, then you've come to the right place. 
Advertising in Messengers
Messaging apps are the easiest place for you and your customers to connect. Communication allows customers to better perceive the brand and get more information. The trend of 2021 is advertising via messengers. For example, such as Facebook Messenger, WeChat, WhatsApp. These applications are becoming a popular means of communicating with customers. Let's take a concrete example – Facebook Messenger. This app sends over 15 billion messages monthly between clients and advertisers.
Audio podcasts
We are all used to messages in text or video format. However, messages in audio format are becoming more and more popular. This format is very convenient for people who drive their car, travel on public transport or listen to their favorite tracks with headphones. This content format is great for listening in the background while you are doing something else.
A / B testing in SEO
A / B testing is testing several variations of pages in order to understand which page is more attractive to the user. This trend will help you understand which page ranks better and which keywords will help you get more traffic.
Influencer Marketing
Influencer marketing is a lot like word of mouth. Only instead of feedback from your acquaintances, friends or colleagues at work, opinion leaders play an important role here. Recently, many users trust YouTube reviews and various bloggers more and more than regular website reviews. And this trend will only intensify in 2021. Therefore, if you want users to trust you, then you need to cooperate with bloggers in your topic. Instagram and Facebook were very popular in that strategy. As of now, you should look at TikTok and Twitch influencers. You can make big money by using influencers on those platforms. First of all, create a Twitch page and buy social followers-likes from trusted companies like StreamOZ. Then you'll be ready to start collaboration with the influencers of Twitch.
Omni-channel marketing
This is the use of multiple platforms to attract customers. This could be social media, apps, or a blog to interact with your audience. To maintain a leading position in the market, brands must communicate with their audience across all channels, including catalogs and social media. networks. These channels should be interconnected and represent a single brand promotion strategy.
Interactivity
In fact, one of the main problems in marketing is the messy organization of advertising, as well as a large number of competitors. Many promotional messages focus on one thing – buy it! Therefore, today it is important for a marketer to first of all interest a client. And the sooner this is done, the sooner he can be attracted to buy a product. In 2021, the relevance of the use of interactive content will grow. It includes:
Various polls;
Contests;
Quizzes;
Videos.
First of all, such content attracts attention. And even if he does not prompt you to buy a product or service, he will definitely be deposited in your head. This means that there is a high probability that he will share it with his friends. Thus, it will attract even more potential customers. It will also help gather additional information. For example, interests, emotional state, etc. This, in turn, will help marketers develop a strategy for each user group. Thus, the advertising will be more effective and more likely these users will purchase your product in the future.