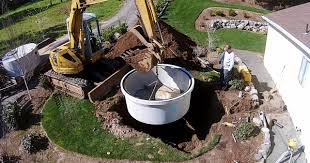 Are you planning to hire a reputable company for septic tank installation? If you are in the North Carolina area, HoneyBee Septic Tank Service is your trusted septic system company that delivers high-quality results at the most affordable costs. Being an expert in the industry, we'd like to share with you these helpful homeowners guide to a successful septic tank installation:
· Septic System Design
Like any home project you want to do, you need to create a plan for your septic system installation. This means that you have to do your homework about what type of septic system will best fit your unique needs. Since septic tank installation requires expertise and investment, you may opt to talk to a professional septic system contractor about your choices. They can do a thorough analysis of your property and find the perfect place for your septic system.
· Choosing the right Septic Tank
Septic tanks come in a variety of sizes and materials. Concrete tank installation requires greater effort since you still need access to a truck-mounted crane. These tanks are very strong, but since the lids are placed after the installation, there is a higher chance of septic problems like leaks and poorly sealed joints. On the other hand, plastic tanks are as strong as concrete tanks, but many residential properties prefer them. One reason for that is, they are built as a single piece, so there is no risk of leaks.
· Installation
You can choose to do septic tank installation yourself or hire a professional team like HoneyBee Septic Tank Service to help you. DIY septic system installation is cost-saving, but you must be aware of the building regulations for drainage works. If you have insufficient knowledge and equipment needed for the project, it's better to hire a professional septic system company to do the job. Be sure to do your homework before choosing the team for your septic tank installation.
· Ventilation
Septic tank installers overlook ventilation most of the time, leaving homeowners with onsite odor issues after years. Septic system ventilation must be present at the ends of the percolation trenches and wastewater treatment plants. You can also opt for a soil vent tack. A reputable septic system company understands that this is an important feature in septic tank installation.
· Maintenance and Operation
The septic system is an important part of your home, and septic tank installation requires a big investment. To make the most of the money you spent, it is important to consider future maintenance services for your septic system. It will guarantee the proper performance of your septic system and can save you from premature replacement and expensive repairs.
At HoneyBee Septic Tank Service, we can help with septic tank installation in Mooresville, NC, and nearby communities. We are also the area's go-to company for 24-hour emergency septic tank repairs. Give us a call, and our team of specialists will be at your doorstep as soon as possible to provide the services you require.