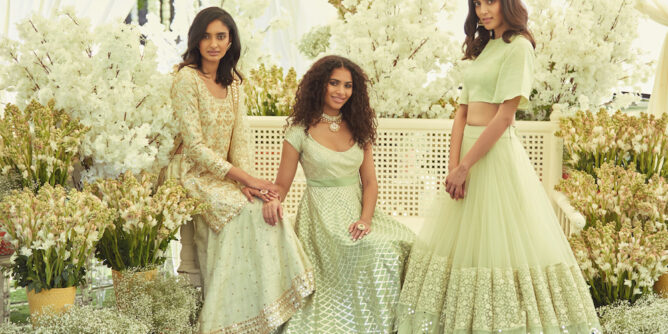 The first few days of your married life are almost like a dream come true. You are treated so specially and everything is so new around you. And of course, when you are the special guest everywhere after your marriage, it is important that you look beautiful and represent yourself in the most attractive way. That is why bridal wear for newbie brides is considered so important. And if you are looking for some of them to include in your trousseau, then this post is certainly for you.
A net lehenga: As a newbie bride, you certainly can't miss including a lehenga in your trousseau. It is the most celebrated Indian attire that suits almost all the occasions you wear it to. Be suggest, you get a net lehenga to wear on a special function or feast you are invited to after marriage. The colour choice totally depends on you, and with the sheer, net fabric, you will not only look sexy in it, but also very elegant. Additionally, if this net lehenga has some embroidery or other work over it, then it looks all the more attractive.
Shimmer Saree – As an Indian newbie bride, you are expected to appear in a traditional saree on various occasions. So, how about having a shimmer saree for some occasion? It might be a party that you are invited to or a date night with your husband, or simply a wedding you're attending after marriage, a shimmer saree will enhance your appearance like never before. The blend of glitter and cool shades draped around you will add a distinct charm to your bridal look.
Sharara dress – If you are obsessed with flares an want to look elegant an royal post your wedding, then a sharara dress is something that you should definitely buy. With bright colours and light work, the sharara dresses are certainly going to enhance your appearance during daytime functions. But even if you go for the darker hues and plain solid materials, these would suit the events you attend after marriage perfectly.
Anarkali dresses – Be a bit more elegant in your bridal appearance as you go out in public. Yes, you can wear an Anarkali dress in a day or night function and look magnificent like never before. With or without heavy work on this attire, just the flare and the fabric are enough to make you look charming anywhere you go.
Chikankari salwar suits – Want to look most comfortable while you attend a semi casual or informal event after your marriage? Then simply grab a Chikankari salwar suit for your trousseau. It has a unique Indian feel to it and of course, the trend never goes out of talks! You can pick shades like light pink, white, or green in these suits and claim the event with your appearance.
Angrakha kurta with trousers – we know that even as an Indian new bride, you love blending western fashion into your attire. So, how about trying the Angrakha-style kurta that is so very traditional and pair it with trousers? This combination would be perfect for your daytime events and even the semi formal occasions you are off to after your marriage.